Need to look more professional and you've tried everything? Join an individualized program to help you finally succeed!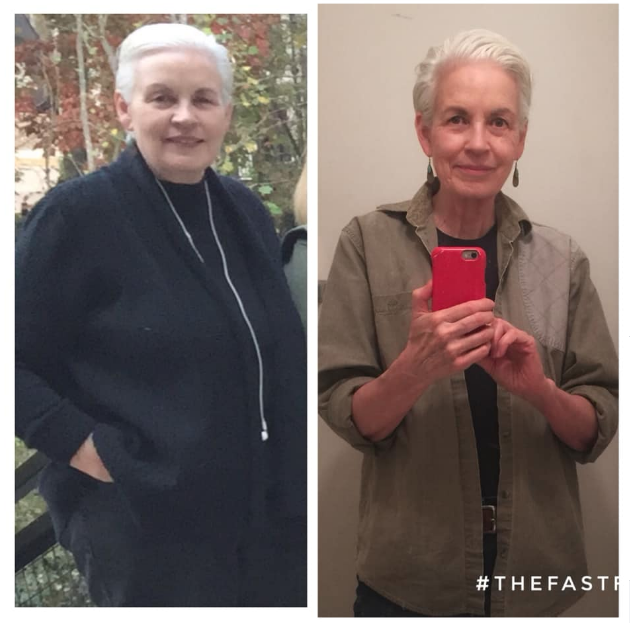 Ellen has an EdD in Biology, a Master's in Clinical Psychology and is a retired PA, formerly in the ER and Occupational Medicine. She's leading this IF experience.
I was becoming more unhappy with my weight as the years went by and a couple of years ago I found myself in the uncomfortable position of having put on 40+ extra pounds. The weight, plus an ongoing, very stressful family situation, fueled a serious sugar addition.
For me, as a Southerner, that took the form of way too many glasses of sweet tea every single day. I had been on diets before and while successful in the short term, the diets were not sustainable and I rapidly gained the weight back, plus a few extra pounds as well.
I was introduced to Intermittent Fasting though some research I was doing for a client. After having read scores of articles, books, listening to podcasts and more, I was convinced.
On May 18, 2018 I jumped into the deep end of the intermittent fasting pool with an 18 hour fast. Within a week I was doing OMAD (one meal a day) and loving how I was feeling. I have not looked back and will likely eat like this the rest of my life. I had managed to get my weight down to 163 by restricting calories, but couldn't get the scale to budge further until I found IF.
Since May, the weight has steadily come off and today (11-01-19) I weigh 133.4 pounds. I am 5' six" tall and my goal range is between 130 & 135 pounds, so I am there! I have dropped three pants sizes and actually fit into size 6 skinny jeans, which is unbelievable to me. Skinny jeans and I have never been in the same room!!
Together let's leverage the power of Intermittent Fasting to change our lives and our businesses for the better!
Begins November 21.
YOU'LL LEARN...
why IF is not a diet but a way of life
how to begin IF so it's easy to do
why willpower is not required
how you can easily flex your eating window for social occasions
the special fasting apps that makes it easy to keep track
how five minutes of journaling during this program can power your practice
how to stack other research based practices on top of IF to exponentially increase your results
why pink salt is your friend
how not to fear the upcoming holidays
and much more…
You'll also learn proven methods to clear your energy so you can expect the best results possible.
Get six months (12 sessions) individualized help in a group coaching setting. JOIN NOW!
Here's your next step (and please don't wait on this, as we only have ten seats): UPDATE, ONLY THREE SEATS LEFT.
Send an email directly to Ellen at fmcoach@encouragementcoaching.builderallwp.com with the words IF Mentoring in the subject line so she doesn't miss it. Ellen will get right back to you to set up a phone call and go over the details to see if this is right for you. In the email, please tell Ellen a little bit about yourself and why you want to be in the program. Or text "IF Mentoring" to 847-235-9511
Scheduling a call with Ellen does not obligate you to join the program.
In six months, you can be free of diets forever and you will have stepped into a whole new life. Both Ellen and I guarantee this will change your relationship with food forever.
I'm so looking forward to seeing your life changing results!
So, please don't wait to email Ellen, as she will set up appointments in the order the emails come in. She's waiting to hear from you!
Register by Tuesday, November 19 at 9pm ET, and get 3 free EFT coaching appointments over the 6 months.
This powerful tool can help remove cravings, reduce physical symptoms, improve past traumas and negative emotions and rewire the brain for positive thoughts and experiences. Create and reach new heights by removing the negative and replacing whatever you can dream of creating.